<< Home Page
Translation & Language
Spell-checking
Localization
OCR
Dictionaries
Other
---

<< Contact Us

<< Home Page
---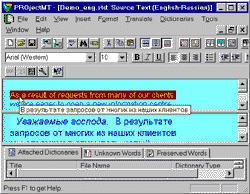 PROMT Giant Russian
Russian to/from English, French, German Translation Software for Windows
© PROMT, Ltd

PROMT Giant Russian is a powerful machine translation system integrating several translation directions (Russian to/from English, German and French) within one application shell.
PROMT Giant Russian to/from English, French, German is an integrated environment incorporating 3 specialized applications into one called Integrator:
PROMT - a professional machine translation system.
File Translator - an application for batch document processing.
WebView - an on-line Web page translator.
PROMT features:
Advanced translation algorithms
Extended general dictionaries
Built-in text editor, with customizable Toolbars
Different translation modes
"On-the-fly" translation
Drag & Drop technology
Settings for professional quality translation, embedding multiple specialized dictionaries
Advanced user dictionary management algorithm
Document pre-processing
Possibility of using auxiliary applications: spelling and grammar checker, electronic dictionaries, OCR system
Possibility of integration with MS Office 2000/2003/XP/2007.
File Translator:
Provides text translation in batch mode
Enables users with a high volume of documents to organize a translation queue and to process documents in the background mode
Allows setting specific parameters of translation for each document
Provides higher translation speed
WebView:
Synchronous Web page translation
Navigation both through the original page and the target window
Search queries in the language of the original Web page
Save and print the original page and its translation
Add specialized and user dictionaries
Requirements:
at least 500 MHz Pentium (or equivalent) processor;
at least 64 MB of RAM;
SVGA or better video card and monitor; an optical drive; a mouse or similar input device;
operating system:
—Microsoft Windows 7;
—Microsoft Windows Vista;
—Microsoft Windows XP Professional with Service Pack 2 or higher;
—Microsoft Windows 2000 Professional with Service Pack 4;
NET Framework 3.0 (installed automatically)


Also available:
over 40 add-on professional dictionaries - Automotive, Aviation, Banking, Business, Ecology, Biology, Chemistry, Computers, Electrical Engineering, Legal, Mathematics, Medicine, Mechanical Engineering, Military, Oil & Gas, Physics, Polytechnic, Aerospace, Telecom, TV & Video, etc.
4 specialized dictionary collections - Science, Business, Technical, and Industry.
For more information on these products, click here.
PROMT Giant Russian

Translation Software:
Russian to/from English, French, German

Windows 7/Vista/XP Pro SP 2 (or higher)/2000 Pro SP 4

$575.00 USD

Discontinued.

See new product line:
@PROMT Professional

Add-ons for French, Spanish, German are available.
Other Russian Translation Software
We also offer the following Russian translation software:
and PARS/Russian, an English-Russian translation software, which comes in three versions:
PARS Standard
PARS Professional (4 additional dictionaries)
PARS Professional Plus (25 additional dictionaries)
For more information on PARS, click here.


We offer the following Russian Software:
---
| Russian Software - Home Page |

Translation Software:
| PARS Basic/Deluxe/Pro | PROMT Office/Internet/Giant | Phrasebook | Bundles |

Linguistic Software:
| ORFO Spell-checker | SPELLINK | Language CD-ROM | OCR FineReader |

Electronic Dictionaries:
| PG-PARS Dictionary | FAW Dictionary | Language Teacher |

Localization:
| ParaWin Localization | Fonts | Keytop Labels |

Other:
| MAC Software |

| Contact Us |
| Home |
ph: +1 416 763-4256, fax: +1 815 346-2643, sales@virtual-ware.hypermart.net
© 1997-2010 VirtualWare Technologies. All Rights Reserved.